It's no secret that oral health and overall health are inextricably connected. Research has shown that gum disease can significantly affect systemic health, ultimately impacting not only the patient's quality of life, but their out-of-pocket costs for medical and dental care.1 When it comes to preventive care, it's clear the old adage is true – an ounce of prevention is worth a pound of cure. The Cigna Dental Clinical Team completed a multi-year study to better understand the impact that preventive dental care has on medical and dental costs, and what impact periodontal treatment has on patients diagnosed with periodontal disease.
The impact of preventive dental care
We concluded that individuals who practice good preventive oral health care* by visiting their dentist as recommended show consistent cost savings year over year. In fact, over a five-year period, dental costs declined steadily to reach a total savings of 31% per customers, per year (PMPY) for age groups 18-64.1 Customers in this group also see lower costs for dental services such as endodontics, restorative, crown and bridge, and more.
*For purposes of this study, preventive care is defined as receiving at least one cleaning per year.

The impact of periodontal treatment
Using data collected from an earlier study on the impact of periodontal treatment on medical costs, published and presented at the International Association for Dental Research Meeting, in March 2015, the Cigna Dental clinical team reviewed claim data since the original report to determine if additional time and dental services had an impact on longer-term savings. The results are compelling, with customers who received treatment for their periodontal disease seeing a reduction in medical costs of $375 PMPY, or 6% in one year, and 8% over two years.1 We also saw a significant decrease in the number of emergency room visits and hospital admissions.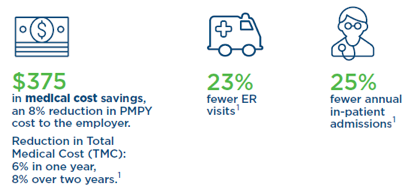 Read the full report
Read about these (and other) findings, along with insights into the way we use this information to drive better outcomes and savings, in our new report.
1 "Preventive Dental Treatment Associated with Lower Medical Utilization and Lower Costs." National Cigna study of customers with dental and medical coverage. Completed August 2018.