Since Phoenix Central opened in 2012, it has been considered a Cigna Medical Group (CMG) flagship center. With this award, Phoenix Central is now recognized as an Arizona flagship health care facility.
Phoenix Central was designed and built with the needs of our patients, their families, the community and our CMG team members in mind. The 90,000 square foot, three-story facility provides family medicine, internal medicine, pediatrics, general and outpatient surgery, a pharmacy that fills more than 7,100 prescriptions a month, digital imaging, laboratory, urgent care, ophthalmology, optometry, podiatry, anticoagulation clinic and diabetes education.
As a state-of-the-art facility, it was also built with sustainability and the environment in mind. Phoenix Central is Leadership in Energy and Environmental Design (LEED®) Gold Certified, runs on solar power and has a system in place designed to limit water use and improve energy efficiency.
More than 6,500 patients call the Phoenix Central center their medical home and nearly 500 patients visit the center every day. And, like any home, it's the people inside that bring the center to life. We have a team of nearly 250 dedicated and compassionate health care professionals at Phoenix Central who bring their expertise, passion and compassion to the care and health of patients, their families and the community.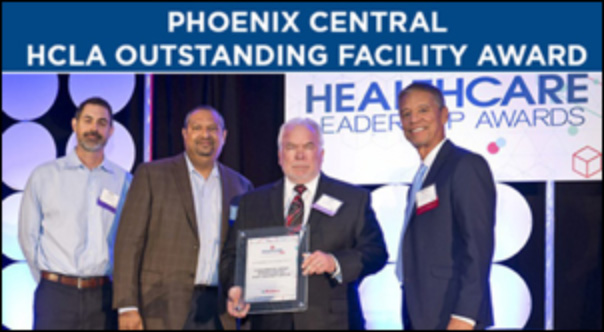 CMG Pediatric teams honored by The Arizona Partners for Immunization (TAPI) with the Daniel T. Cloud Outstanding Practice Award.
For the 14th consecutive year, CMG Pediatric teams were honored by The Arizona Partners for Immunization (TAPI) with the Daniel T. Cloud Outstanding Practice Award. This prestigious award recognizes practices for reaching 90% immunization coverage for the children they serve. Pediatric teams at our Chandler, C. J. Harris, Paseo, South Mountain, Stapley, and Westridge centers received awards.
TAPI also recognizes individuals for their contributions to the health and wellness of their communities. Yolanda Howard, LPN at C. J. Harris Multi-Specialty Center, received the statewide Buck Shot Award for creating an outstanding communication program to educate children and their families about immunizations.